Brethren and Friends:
Hope this edition finds you well and preparing for a wonderful Thanksgiving with your families.
Some news items for you:
Tomorrow, Saturday, 19 November 2011, at the Tacony Masonic Temple, 4400 Magee Avenue in NE Philadelphia there will be a pancake breakfast to benefit the DeMolay. All you can eat pancakes, sausage, coffee, orange juice, $5 for adults and $3 for kids. It begins at 7:00 AM and runs until 1:00 PM. Always a great event and it supports a great cause. Come on out and enjoy a delicious breakfast and feel good about it too! Rumor has it that pancakes are a great "stomach stretcher" too. Just in time for a pre-Thanksgiving workout!
Don't forget our Holiday Celebration Dinner on Friday, December 16, 2011 (Thanks again Bro. Rob!) at the Radisson Philadelphia Northeast Hotel, 2400 Old Lincoln Highway at US Route 1 in Trevose, PA.
The evening begins with the Social Hour at 6PM, featuring two cash bars, and the Valley Ladies "Chinese" and Silent Auctions to benefit the Children's Dyslexia Center of Philadelphia. The Radisson's delicious Continental Buffet follows at 7PM. After dinner Keyboardist, Craig Satchell will entertain us with his Holiday music selections.
I've heard that a "Special Guest" from the "Far Northern Masonic Jurisdiction" will be joining us as well.

BRETHREN TAKE NOTICE & GOVERN YOURSELF ACCORDINGLY: This is a prepaid event. This means that there will be NO tickets sold at the door. Tickets are $20 per person and are available NOW from the Scottish Rite Office. Make your check payable to "Scottish Rite Bodies" and send it to the Scottish Rite Office, Masonic Temple, One North Broad Street, Philadelphia, PA 19107-2520.
The December issue of The Double Eagle will have a coupon in it for you send in to order your tickets as well. The DEADLINE for ticket purchases is Wednesday, December 14, 2011.
IMPORTANT UPDATE: This was too late for press time and is not in the Double Eagle, but, if you wish to invite a Master Mason friend and his lady to come along with you to the Valley's Holiday Celebration Dinner, they are welcome to come for $25 per person. If he decides to petition our Valley for the 2012 Spring Class, he will receive a $5 credit toward his $150 petition fee. But, as this is a prepaid event you must have his ticket order in by the December 14, 2011 DEADLINE.

This is going to be a great night and we want everyone to enjoy it, but, remember there will be NO tickets available or sold at the door. If you just show up, you will be turned away. Don't let this happen to you!
Mark your 2012 Calendar now with these important dates:
Our Spring 2012 Reunion begins on Friday, March 16, 2012 with the Special Communication of Philadelphia Lodge of Perfection. The 4th Degree, Master Traveler (DVD Format) and the 14th Degree, Grand Elect Mason will be presented as will one other Lodge of Perfection Degree to be announced.
The Reunion continues on Friday, April 20, 2012 with the Special Convocation of DeJoinville Council, Princes of Jerusalem and the Special Assembly of Kilwinning Chapter of Rose Croix. The 16th Degree, Prince of Jerusalem and the 18th Degree, Knight of Rose Croix will be conferred.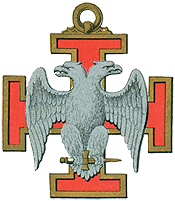 The Spring 2012 Reunion concludes on Friday, May 11, 2012. That evening Benjamin Franklin Consistory will present the 30th Degree, Grand Inspector (Yes, this is an offical, SCOTTISH RITE PASSPORT ALERT!), the 31st Degree, Knight Aspirant and the 32nd Degree, Sublime Prince of the Royal Secret.
Also this Spring:
Saturday, April 14, 2012 is the date for the Valley's Annual Officer's Training Conference. As always the Conference will be held at the Tacony Masonic Temple, 4400 Magee Avenue in NE Philadelphia. All Valley Officers, Officer Candidates both Elected and Appointed, and Valley Committee Members are expected to attend. Any Valley member who is interested in taking an active role in the Valley as either an Officer, Committee member or even in a Degree Cast are welcome and encouraged to attend. A lot of great information is dispersed at the Conference and it is worth your time! The doors will open at 7:30 AM and Continental Breakfast will be served. The Conference kicks off at 8:30 AM. A registration coupon is in the December Double Eagle.
Our Valley's Annual Memorial Service is scheduled for Sunday, April 29, 2012 at the historic, Gloria Dei (Old Swede's Church). The ecumenical service will begin at 3 PM with a complimentary dinner following in the Church's Social Hall. Everyone is encouraged to attend this important Valley function, but we need a headcount for the dinner, so like every year, RESERVATIONS ARE A MUST! A registration coupon for this event will also be available beginning with the December Double Eagle.
We still have a few tickets available for the Valley's Family Life event, "Christmas in Hershey." The promotion runs from November 18th through December 31st at Hershey Park. We do not a particular day for this program, so you have the freedom to choose which day works for you and your family. Tickets are nice priced at $5 per person which also includes $5 worth of "Chocolate Bucks" good for purchases in the Park's many shops. These tickets are first come, first served. Make your check payable to "Scottish Rite Bodies" and send it to the Scottish Rite Office, Masonic Temple, One North Broad Street, Philadelphia, PA 19107-2520. Be sure to put "Hershey" on your check's memo line.
We still have plenty of 2012 Calendar Books available in the Scottish Rite Office. Do you need one? Give me a call at 215-563-1814 and I'll get one out to you.
Well that will do it for this edition. I want to wish everyone of you and your families a very happy Thanksgiving. The Scottish Rite Office will be closed on Friday, November 25th as that is a Masonic Temple Holiday. As a matter of fact, My family and I will be at Christmas in Hershey that day!
May the Grand Architect continue to watch over all of you, until we meet again. Don't forget to say a prayer for our troops this Holiday Season. They are one important reason to be thankful for all you have!
See you tomorrow at Pancake Day!
Sincerely and fraternally,
Steven A. Morrison, 33
Valley Secretary